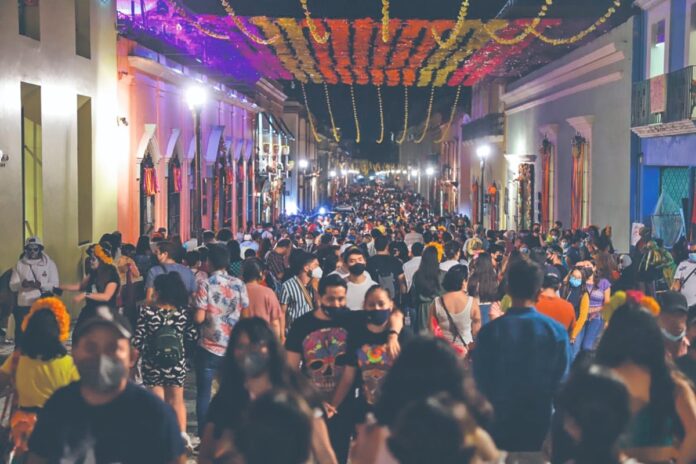 The Day of the Dead and its long weekend revived the country's tourist destinations, which benefited from hotel occupancies of between 60% and up to 100%, in addition to the rebound in sales.
After 18 months they detained the sector by the pandemic of Covid-19, Guerrero, Yucatan, Quintana Roo, Oaxaca, Michoacan, Guanajuato, Tamaulipas, Veracruz, Puebla and Jalisco , among others, recorded a large influx of passersby.
The Guerrero Tourism Secretariat reported that the general hotel occupancy for the long weekend was 66% in the state. In Acapulco, the Diamond zone reached 65%, the Golden zone 64.9%, and the Nautical zone 48.4%.
In particular, Ixtapa registered 76.9% hotel room reservations, while in Zihuatanejo it was 42.7%.
In Taxco de Alarcón, one of the municipalities with a religious Day of the Dead celebration, the tourist influx was 70%.
In Yucatán, hotels in the Paseo de Montejo and Avenida Colón area registered an occupancy of up to 100%, revealed the state Tourism Business Council ( Cetur ), a body that described the influx as "one more incentive in the economic recovery of tourism".
In general, the reservation of hotel rooms remained between 40% and 45%, which represented an increase, compared to the 37.1% reported last October.
In turn, Quintana Roo registered the visit of 160 thousand 645 national and foreign tourists. The Riviera Maya topped the list in hotel occupancy with 62.3%, followed by Cancun, with 61.8%; and Cozumel, with 49.7%.
Gaviota Azul, Chac Mool, and Delfines beaches were among the busiest in the state.
OAXACA, WITH A HISTORICAL RECORD
The governor of Oaxaca, Alejandro Murat, said that during the festivities for the Day of the Dead, the entity registered a record in hotel occupancy.
In the capital, hotels, restaurants and bars reported capacity above 80% and 95%. The state Tourism Secretariat estimated that more than 40,000 tourists came to the state, of which 15,000 went to beach destinations such as Huatulco and Puerto Escondido.
Meanwhile, in the historic center of Morelia, Michoacán, hotel occupancy was between 95% and 100%, between Friday and Tuesday, while in neighboring areas it was up to 65%.
In Guanajuato, the state Tourism Secretariat estimated that 47 thousand tourists attended the International Cervantino Festival (FIC), which coincided with the long weekend due to deaths, with a hotel occupancy of 39%.
In Tamaulipas, an occupancy rate greater than 50% was reported; in Puebla, it was estimated at 45%; in Veracruz, it was 75%, while in Jalisco it was between 60% and 80%.