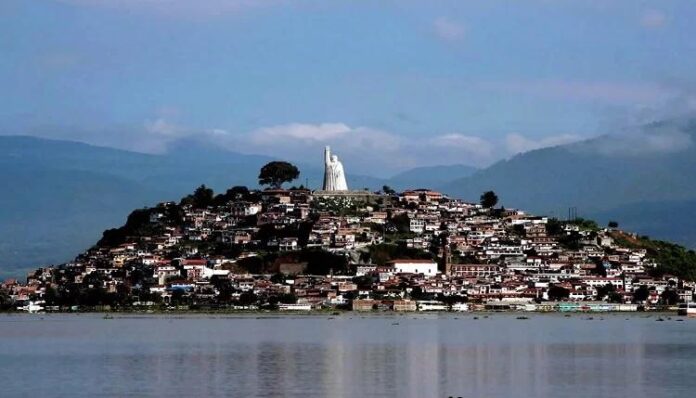 Mexico is one of the most diverse countries in the world, we have islands, beaches, magical towns, mountains, volcanoes, big cities, deserts, mysterious jungles, lakes and lagoons of great natural beauty that seem to be taken from the best movie scenes and that They attract millions of tourists every year.
Lake Chapala: This is undoubtedly one of the most famous and is located in Jalisco. This is the largest lake in Mexico and is surrounded by a contrasting landscape marked by mountains, the lake is known for its impressive natural beauty and its great diversity of marine life, including fish, birds and reptiles. Visitors can enjoy activities such as fishing, hiking, bird watching, and boating. There are also several beaches and spas around the lake, where you can practice water sports and relax in the sun. Lake Chapala is an important cultural and historical center of the region, with several towns and cities along its shores that offer a rich cultural experience. One of the best-known towns is Ajijic, which is a popular destination for English-speaking expats and is known for its art galleries and vibrant cultural scene.
San Ignacio Lagoon: The lagoon is known for being one of the main gray whales watching destinations in the world. Every year during the winter months, the whales travel from the cold waters of the north to mate and have their young in the warm waters of the lagoon. Visitors can take a boat tour of the lagoon to see these magnificent creatures up close. In addition to whale watching, the lagoon is also home to a wide variety of marine life and birds, including pelicans, cormorants, gulls, and many other species. Laguna de San Ignacio is also an important archaeological site, with several ancient ruins of the Cochimí culture located in the area. Visitors can explore these sites and learn about the region's rich history.
Zirahuén Lake: It is one of the most incredible natural destinations to visit in Michoacán. According to popular legend, this lake was formed after the Spanish kidnapped the daughter of the king of the Purépechas, she began to cry, and her tears formed a lake so that she, turned into a mermaid, could escape. The lake is known for its stunning natural beauty, with crystal clear waters and surrounded by forests and mountains. Visitors can enjoy activities such as hiking, fishing, kayaking, and swimming. There are also several beaches on the lake where you can enjoy the sun and the tranquility. It is a major tourist center in the region, with several hotels, restaurants, and visitor attractions. Among the most popular attractions are the Isla de Zirahuén, where you can go hiking and boating, and the town of Santa Clara del Cobre, which is known for its production of copper handicrafts. The area around Lake Zirahuén is rich in culture and history, with several towns and cities along its shores that offer a unique experience.
Bacalar Lagoon: Better known as "the lagoon of seven colors" for its different shades of blue, this natural wonder is located in the south of the state of Quintana Roo. The lagoon is one of the largest in Mexico, its crystalline waters are surrounded by exuberant vegetation and a great diversity of marine life, including fish, turtles and a wide variety of waterfowl. It is ideal for water activities, such as swimming, snorkeling, diving and kayaking. There are also several places around the lagoon for hiking and exploring nature, including the trails of the Bacalar National Park. The lagoon is rich in history and culture and has been an important location for the Mayans and pirates who sailed through the region. Today, you can visit several historical sites, such as the Fort of San Felipe, which was built in the 18th century to protect the area from pirates.
Lake Pátzcuaro: It is one of the most emblematic lakes in Mexico, located in the state of Michoacán, in the center-west of the country. It is known for its rich history and culture, since several indigenous peoples are found on its islands that preserve their ancestral traditions and unique crafts. Among the most famous islands in the lake are Janitzio, where you can visit a monument to Mexican national hero José María Morelos, and Isla de Yunuén, which is known for its beautiful gardens and exquisite cuisine. It is also recognized for its biodiversity, as it is home to a wide variety of endemic species of the region, such as the Chara, an aquatic plant that is in danger of extinction. In addition, it is an important place for the migration of waterfowl, which makes it an ideal destination for lovers of bird watching.
Visiting lakes and lagoons in Mexico is an experience that offers a unique combination of natural beauty, biodiversity, and outdoor activities. However, it is critical that visitors are aware of their impact on the environment and take steps to preserve and protect these bodies of water for future generations.
  Source: Heraldo de Puebla