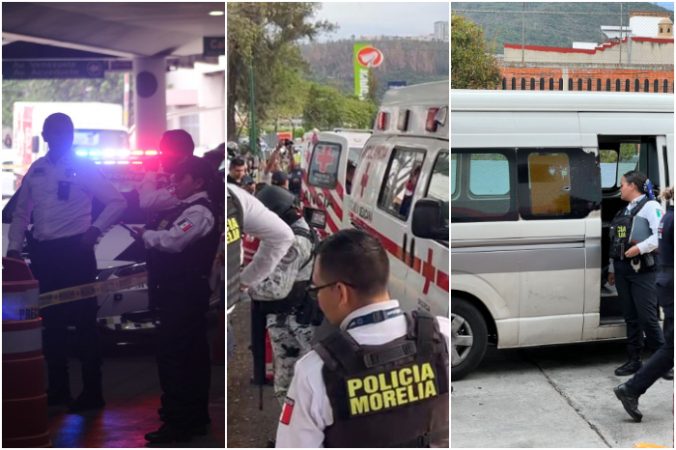 During the afternoon of this Friday, three acts of violence were recorded in different parts of the Michoacan capital. The first of these occurred in the Espacio Las Américas shopping plaza, where a lawyer and his escort were shot to death in the parking lot. Minutes later a shooting occurred near the Palace of Art, which left a woman injured. Similarly, in the same area, a Ruta Gris van was shot and four people were injured, one of whom died before reaching a hospital, police authorities reported.
The first case took place in the parking lot of the aforementioned shopping mall. According to sources close to the subject, one of the victims responded to the name of Diego M., who was an auxiliary police officer, who was escorting the lawyer Francisco Javier V., who also died.
The shots in the square were reported to the 911 emergency number. On the site, workers and customers suffered nervous breakdowns. Patrolmen from different corporations arrived at the property and searched to guarantee the safety of the people.
The place of the double crime was cordoned off and specialists from the State Attorney General's Office (FGE) were in charge of the respective investigations.
Woman shot near the Palace of Art
The second attack occurred minutes later a few meters from the Palacio del Arte, on the Periférico, where a female was injured, she was later treated by paramedics and taken to a hospital.
Combi arrives with 4 people shot at the Women's Hospital
Also, in the Emergency area of the Women's Hospital, a van from Ruta Gris 2 arrived, which was attacked with bullets and four of its occupants suffered projectile wounds, one of them died on the way to the aforementioned hospital, the rest were badly injured; among the patients there is a minor and a female, it was learned in the coverage of the news.
All cases are already being investigated by experts from the Prosecutor's Office and the corpses have been sent to the morgue for the rigorous autopsy.
Source: La Voz de Michoacan