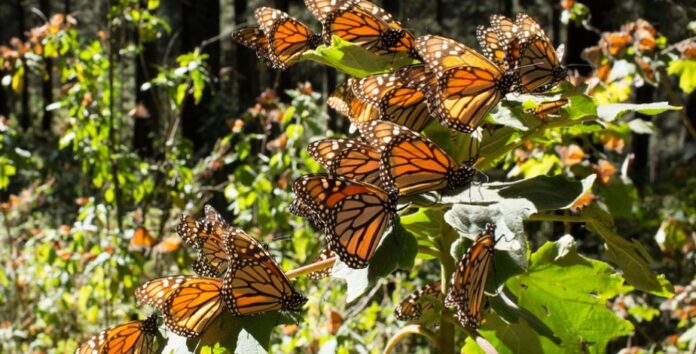 The migration of the Monarch butterfly has always started in mid-March, however, it has already begun to leave the Michoacan forests due to climate change, said Luis Fernando Luna, Senguio Ejidal commissioner, and representative of the Monarch Butterfly Advisory Council, which represents 64 agrarian groups from Michoacán and the State of Mexico.
Interviewed by Quadratín, the commissioner asserted that they have seen that the butterflies have begun to move before the migration season and this is due to the increase in temperature. Due to this situation, he called on the authorities to begin resolving issues regarding it.
The commissioner stated that there was little interest in the situation of the Monarch butterflies, but it is already very evident that the increase in heat and pollution, especially in the dry season, generates this problem.
" We have fires and the temperature also increases due to the greenhouse effect they cause. We must raise awareness to no longer burn pastures or forests because it is affecting all of us very hard since the water in the forests is also decreasing, "he said.
"If it hits us for water reasons, you have to imagine what happens in Mexico City where the vital liquid goes," he said regarding the tributary that reaches the Cutzamala System from the Michoacán forests.
In the Senguio region, Ejidatarios are prohibited from burning pastures, and there are even surveillance brigades to avoid this type of situation and fight fires, assured Luis Fernando Luna, who indicated that the entire community is involved, reviewing any incident within the territory without payments or tools, since before it was the National Forestry Commission (Conafor) that made them strong with tools, and now it has been deteriorating and they work with what they have at hand.
Source: El Financiero