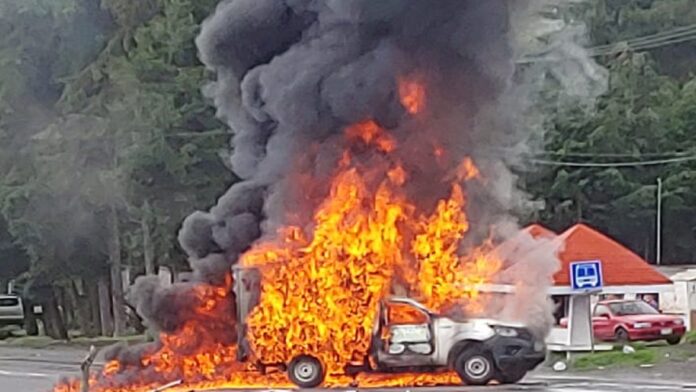 The union members assure that they have not been paid two fortnights in August. 
Teachers from the "Poder de Base" fraction, attached to Section XVIII of the National Coordinator of Education Workers (CNTE), seized business vehicles that they set on fire in various stretches of road where they keep traffic closed.
The teachers, who since last July 31 have blocked the train tracks at the height of the town of Caltzontzin, in the municipality of Uruapan, carry out at least five blockades on the following roads:
Morelia – Guadalajara
Purépero – Paracho
Patzcuaro – Uruapan
At the junction of the town of Cuatro Caminos (Múgica) and at the junction of Tzurumutaro (Pátzcuaro).
At the blockade located on the Pátzcuaro – Uruapan highway, near the town of San Juan Tumbio (Pátzcuaro municipality), about 40 protesters, including education workers and normalistas, set fire to at least two delivery vehicles.
While at the blockade of the Cuatro Caminos roundabout (Múgica), the teachers threaten to burn another unit that they keep crossed to prevent vehicular passage.
The professors of "Poder de Base", attached to the CNTE, demand the payment of the two fortnights in August that the Government of Michoacán owes to 28 thousand workers on the state teacher's payroll.
More blockades of the CNTE
With the same slogan, the teachers prepare a series of demonstrations to be held in the remaining days of the week. Tomorrow, September 2, the protesters plan to release toll booths on the Autopista de Occidente, which connects Michoacán with Mexico City and Jalisco.
Members of the CNTE will be present at the Lengua de Vaca, Contepec, Zinapécuaro, Panindícuaro, Ecuandureo and Vista Hermosa booths, from 9:00 a.m. to 2:00 p.m.
While on Friday, September 3, "Power of the Base" will be manifested with the taking of municipal Presidencies throughout the state.
In addition to the radical protests in the public thoroughfare, the teachers of the CNTE Michoacán remain out of virtual school work due to the lack of payments, and warned that they will not start the school year as long as the Government of Michoacán does not settle the debts with the guild.
Source: unotv.com