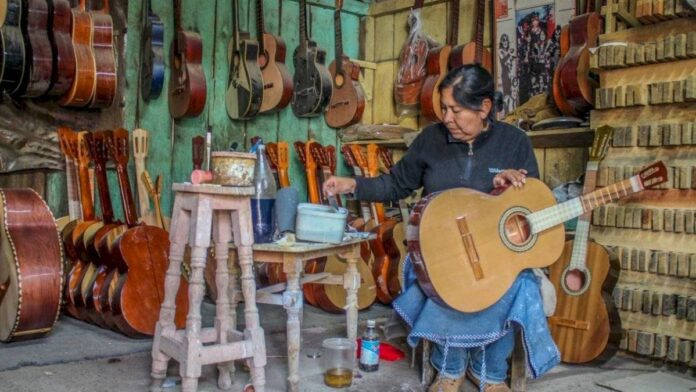 A municipality full of music.
Paracho de Verduzco, colloquially known simply as Paracho, is the head of the indigenous municipality of Paracho
Located in the state of Michoacán, Mexico, this site is an indigenous community of the Purépecha plateau.
Paracho's name comes from a Chichimeca word that means "offering".
It was built in the Republic of the Indies upon the arrival of the Spanish.
The town was inhabited by only 367 people.
Throughout this place we can find a wide diversity of artisan production, and a great gastronomy.
One of the main attractions of Paracho is the manufacture of acoustic guitars since here are the workshops where this instrument has traditionally been manufactured.
However, not only guitars are manufactured, but also other instruments, such as violins, mandolins, double basses, guitarrones, among others.
We can also find wooden items such as toys, bookshelves, dining rooms, cutlery, and a variety of furniture made of this same material.
Near the Paracho kiosk is a house of culture, a house that was previously a boarding school for young people.
Currently here, different exhibitions, sizes, exhibitions and any cultural event are held.
During Easter, the Cultural Festival of the Guitar is celebrated, just on June 29.
This celebration is held in honor of San Pedro and San Pablo and it is here where they show their typical dances such as the dance of the Moors, the old men, and the Negritos.
Michoacan gastronomy was recognized in 2010 as an intangible heritage of humanity.
Its cooks offer various delicacies from the Purepecha cuisine, such as corundas, uchepos, bread cooked with firewood and chirupos.
Located in Michoacán, you can enjoy all of the above at approximately 1 hour from Uruapan, 2 hours from Morelia, and 6 hours from CDMX.
We invite you that if you are close to this state, you can enjoy the gastronomy and why not some acoustic concert.