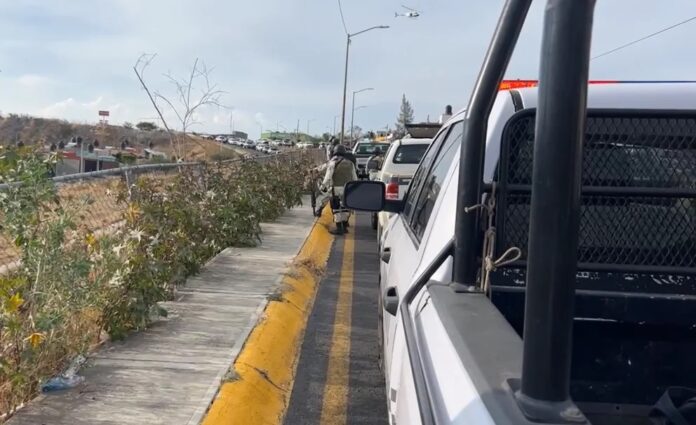 The actions took place in the Misión del Valle subdivision in Morelia and six people were arrested
A shooting in Morelia, Michoacán left at least two dead police officers as a result, according to the authorities. "Police personnel in investigation work have been attacked with firearm shots; So far, two deceased agents have been reported," the Michoacán Prosecutor's Office shared through social networks.
The events occurred in the Misión del Valle subdivision, for which reason police mobilization in the area was reported, and information that circulated on social networks indicated that the actions were derived from persecution. Shortly before 8:00 p.m., the entity's Secretariat of Public Security (SSP) confirmed the arrest of six people and indicated that operations were continuing in the area.
In a brief recording shared on Twitter by Grupo Marmor, the sirens of the security units could be heard and at least two vehicles could be seen approaching an area. In other videos, what appear to be detonations could be heard as authorities' vans approached.
Through a live broadcast of the Social Sanction Citizen Association, it was possible to see air crafts flying over the area and security agents from the Civil Guard, the Municipal Police and the State Attorney General's Office (FGE) in the area. In the same way, in that transmission, the uniformed officers could be seen checking the surroundings in search of the possible perpetrators.
At least three helicopters kept monitoring the area while security agents checked on the ground. "In the moments after the attack, the alleged criminals were persecuted, a group of whom took cover in a house from where they fired a firearm against the federal and state security elements," reported the Prosecutor's Office of the entity in social networks.
Users on social networks were able to record the intense shooting from inside their house. Shortly before 5:00 in the afternoon, La Voz de Michoacán reported that the shooting continued to the east of Morelia.
The entity's Prosecutor's Office also indicated that he has instructions focused on prioritizing the safety of citizens who live and pass through the area.
For its part, the media outlet Mi Morelia shared that the violent acts had started due to an attack by civilians on elements of the National Guard, and there were also reports of grenade throwing.
It should be remembered that last Saturday, April 1, another shooting occurred in the shopping center known as Plaza U in Morelia, Michoacán, which left five people injured as a result. Various security elements arrived at the scene and the Michoacán FGE reported that it had initiated investigations into the facts.
The injured individuals were identified as Iván Reynaldo "M", 46 years old; Sergio "O"; Alberto "G"; Raúl Eliseo, 39 years old; and Mario Rey, 49, who were taken to various hospitals in the city of Morelia, as reported by Quadratín.
Source: Infobae