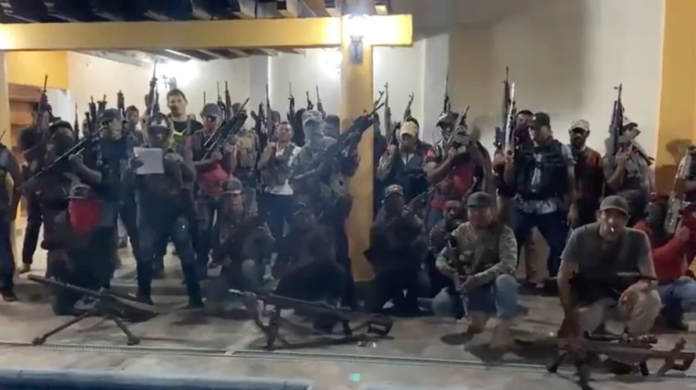 Heavily armed men claim control over Milpa Alta, a rural area on the capital's southern fringe.
Security officials in Mexico City are on alert after seeing an alarming video with 30 men brandishing weapons and claiming control over the capital's southern boroughs. Posted by a group calling themselves "Pura Familia Michoacana" (The Michoacan Family), the video spread like wildfire on social media. It was a message of death and terror with all the typical drug-trafficker boasts, threats and crude language, and signed by just one man – El Zarco (green eyes). The display of firepower didn't frighten everyone so much, it was the territory they are claiming – Milpa Alta – the small, rural towns on the southern fringe of the capital city. Authorities say that no criminal organizations are firmly established in this area, even though it's a valuable thoroughfare for illegal activity. People are busily hanging Christmas lights to decorate their towns, while police cars circulate constantly to preserve the peace and quiet of the holiday season.
The federal district of Mexico City has mostly escaped the drug trafficking terror that has gripped the entire nation. But evidence is mounting that this relative peace is ending. On June 28, 2020, Public Security Minister Omar García Harfuch was attacked in the heart of the capital. Authorities say several cartels are engaged in a turf war for control of the city. Some have gravitated to Tlahuac, a borough located on the southeastern edge of Mexico City, and to other nearby communities just a stone's throw from Milpa Alta, the most rural of all the capital's boroughs. "We're already in Milpa Alta," says the masked man in the video, as if to warn local residents that the nopal cactuses that dominate the landscape aren't the only thorns to watch out for.
Some say that criminals are after empty fields abandoned by their owners. Others note the area's advantageous location between several states, and the federal highway that runs north to south through Milpa Alta. Meanwhile, authorities are advising people not to panic. "We are not minimizing the video, but if a cell like this one were actually operating in the area, we would have seen more than one intentional homicide in November in Milpa Alta," said Garcia Harfuch, after meeting local leaders. The Ministry of Public Security reiterated that it "neither minimizes nor discounts" the threats in video, but quickly dispatched 25 high-security patrol vehicles with six police officers each. "We deployed a significant security force to Milpa Alta that is patrolling the area every day," said Garcia Harfuch.
San Antonio Tecomitl is a town of 21,000 that has become the commercial center of the Milpa Alta area. In the town square, an officer orders his troops to fall in, and then runs the 20 or so men in navy blue uniforms through a few drills. He says he doesn't think the Familia Michoacana is operating in the Milpa Alta area because there's no evidence of it. "The people fighting over land are from Chalco," he says, referring to the neighboring town. "They just want to be able to transit freely through here; they're not fighting for control of drug territory," he said. The officer said they'll stay as long as necessary, "so that the people will know that they haven't been abandoned and that these armed groups aren't going to take over." Why did they release this video? "To cause panic. It's a message to [criminals] like themselves. But everything is quiet here. The ones causing all the fuss are just passing through."
Antonio Nieto, a journalist specializing in drug trafficking who wrote a book on the cartel in Mexico City, doesn't think they're just passing through. Nieto says that the Familia Michoacana has been active in Chalco, Ixtapaluca, Tlahuac and Milpa Alta since 2006. "The video is about the Familia Michoacana's recent battles against "Los Gastones," another group of drug traffickers operating in the same area. Nieto cites a number of arrests, murders and skirmishes between street dealers over the last 18 months. "The Familia Michoacana has been involved in about 350 incidents over the last three or four years," he said. "They're active on social media and have been around for 20 years, so no one can say they're not in Mexico City. What's changing is that they are now more out in the open, although they haven't yet declared war on the authorities."
As the saying goes, "Troubled waters make for good fishing," so when narcos churn up the river, neighborhood thugs and low-level extortionists get busy. That's what a small grocery store owner says is happening in Milpa Alta. "I got a call from someone who said he was from the mayor's office. That's strange, I thought to myself. He wouldn't let me talk. When I wanted to say something, he just said, 'You'll know when it's your turn to speak.' That's when I hung up. But he called twice more and said he was from the Tláhuac cartel, which had never happened to me before. Other times they called and said that one of my nephews had a problem and needed money. But then they told me they knew where we lived and asked if I wanted to see my wife hanging from a bridge. I got scared and reported it," said the shop owner, who asked for anonymity. He installed security cameras and now closes the shop before it gets dark. In the morning, all the stores are open, and fresh fruit and huge pots of mole are on display. It's a cheerful atmosphere that belies the trepidation that night brings.
Other messages have circulated recently on WhatsApp warning everyone, "Stay home after 11pm – the Jalisco New Generation Cartel is here to bring order to this town of innocents. All the little lackeys poking their fucking rat fingers where they don't belong are going to get fucked up. We have been sent by the boss to stay and work here. Don't ignore this message. We're going to torture, kill and dismember all the fucking rats that we already found." The message then lists the aliases of 20 people that they're after. Although the message almost seems laughable at times, the threat is real. Dismembered bodies have been found in Mexico City's historic downtown, a popular tourist attraction. No joke.
The Teutli volcano looms over this peaceful, sun-splashed land, overlooked even by the scourge of the Spanish conquistadors. "We all know each other in these villages. If we see a stranger, we ring the bells to alert everyone," said Ramiro Caldillo, a municipal official. He dismisses the veracity of the Familia Michoacana video, and blames social media for spreading fear. "Of course, there is some concern and people are talking about it," he said. "But there are some odd details in the video, like the swimming pool in front of the men. We don't have those here," he says. Things may be a little less safe now, but Caldiillo is being cautious because he knows that peaceful Milpa Alta borders some unsafe areas, and that its "empty fields and mountainous terrain are difficult for the police to secure." But like the Minister of Security, he notes the low number of homicides and insists that all is well.
Nothing is moving in the quiet nopal fields – not a single gust of wind to shake their thick, stiff leaves. They remain that way from morning to night, but now there are some warning signs that peace may not last much longer in this rural landscape on the southern fringes of the great Mexico City.
Source: elpais.com
The Mexico City Post