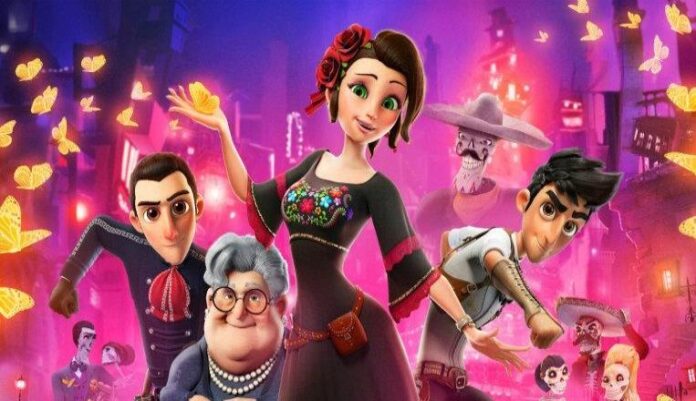 We tell you about the animated Mexican movie "Día de Muertos". Don't stop enjoying this 100% Mexican project!
A controversial film that reflects the traditions that are lived in Mexico during this holiday. For the producers and all the people behind this film, it was a long road that lasted 16 years. Different legal battles had to be fought, the main one against the American entertainment monster: Disney.
Registration of the brand "Day of the Dead"
In February 2005, Mexican producers Estefani Gaona and Roberto Gómez attempted to register the Día de Muertos trademark as the name of the film and for commercial use of the film. 
In response to IMPI, the request was denied, claiming that a tradition could not be registered as a day of the dead. The producers accepted the situation and continued working on the film.
Years later, in 2012, Disney began working on the famous movie Coco. Therefore, the registration process for the brand "Disney Pixar Día de Muertos" began, both in the United States and in Mexico. 
The Mexican Institute of Industrial Property (IMPI) admitted the registration request, years before denied to Mexican producers. 
This whole situation resulted in a three-year lawsuit against IMPI. Finally, the creators of the Mexican film were able to grant them the registration that is limited only for its use in toys, clothing, and merchandise from the film.
At last on the big screen
he film tells the story of Salma , a young woman determined to meet her parents. In search of her roots and her identity, the young woman decides to go out on Día de Muertos and find her family. Together with her friends Pedro and Jorge, Salma embarks on the adventure towards her origins.
Because Disney Pixar had a larger production and budget, they managed to bring the film Coco to the big screen before the Mexican film. Despite the fact that the Mexican project had been in the works for more years, it was decided to postpone its premiere until November 1, 2019. This is in order that the film was not overshadowed by the box office success that Coco represented in 2017.
Have you seen both movies? Tell us your impressions. What are you waiting to enjoy this beautiful and Mexican story?
For The Latest Mexico News About Living, Working, Investing, or Retiring in Mexico Please Join and Share our Page Click Here