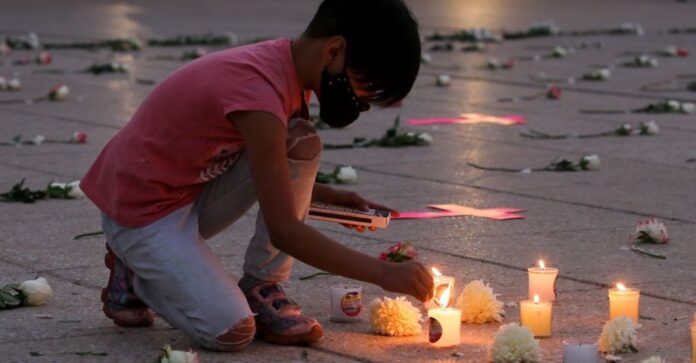 The complaint began in CDMX, the case was transferred to Morelos and there the initial hearing has been postponed for a year.
Ale is only a teenager, but she naturally uses terms such as "revictimize", "well-integrated investigation folder" or "legal deadline to present evidence". The reason is that, at just 15 years old, she has already been in legal proceedings for three years against her adoptive father, whom she accused of sexually abusing her when she was seven.
A process full of obstacles, where the initial hearing of the trial was postponed several times in the last year and the judge annulled it because he considered that the accused was not having an adequate defense.
The rights of a presumed sexual abuser of minors have been above the rights of a girl, Ale and his mother complain in a virtual interview from a place that they do not reveal because, in the absence of measures to restrict the accused, they have attacked and threatened before, they prefer to hide.
The stage name of the alleged abuser is Freddy Potenza, an Argentine citizen residing in Mexico, a tango singer in places like La Vid Argentina restaurant (on Nuevo León Street, in La Condesa, in Mexico City), and the son of a renowned musician of this genre.
His status as a foreigner has also played in his favor, or the action of the Argentine Consulate, which ignored two legal subpoenas to send a consular representative to the initial hearing, a right of any person from another country that, when not fulfilled, served as I argue with the accused to request that the hearings be postponed for two more months.
The Embassy of Argentina in Mexico denied Animal Político that Freddy is its "cultural representative", has any position or influence, as he has assured before the judge. While the Consulate said that their work is not of representation of their compatriots, but only of "mere accompaniment", but that in the face of the health contingency, they are not displacing their officials and they made it known to the Morelos court in an official letter (Although they were asked three times).
The case is almost three years old because it first spent 10 months at the Mexico City Attorney General's Office, the place where the complaint was originally filed because Ale and his mother lived there, and where some of the abuses occurred. But after the then 12-year-old girl was revictimized with intimidating interviews and "tactless" treatment – in her own words – by the people who took her statement, the authorities decided that, although there were elements Of crime, it was better for the case to be investigated in Morelos because the most serious sexual abuse occurred there, in a cabin in Tepoztlán, and where, in addition, there were witnesses. So they transferred the case to Morelos to start over.
In the neighboring state, the investigation folder JC / 1280/19 was opened. He spent almost a year under investigation by the Public Ministry. There the treatment was humane, without revictimization – Ale and his mother relate it. Once the investigation folder was integrated, accompanied by two expert opinions (the one from Mexico City and the one from Morelos) that confirmed that there were damages due to abuse, the initial accusation hearing was summoned, in which, if sufficient elements were found, preventive detention could be issued for the accused because it was a serious crime.
The hearing was scheduled for March 25, 2020, but the COVID-19 pandemic arrived in Mexico, the court was closed and the hearing was postponed, with the alleged abuser already aware that there was a process against him.
Six months of suspension passed, and when the hearing to formulate the accusation was to be held, it was postponed again, this time due to lack of legal assistance from the Consulate of the Argentine Republic in Mexico, to which its nationals are entitled.
Political Animal has a copy of three official letters that the court sent to the Consulate to warn that the initial hearing had to be postponed due to the lack of presence of a consular representative. Trades are dated September 9, October 2, and November 10, 2020.
Two of these letters were not attended to or answered by the Consulate, an omission that led to postponements of the initial hearing. For the judge and the Public Ministry, it was essential that the accused, an Argentine citizen, receive consular assistance or at least a response from the representation of that country. Finally, on the third summons, the Consulate responded that it was not in a position to send anyone to assist its compatriot. But the hearing had already been postponed for three months.
Judge annuls trial for defendant to correct his evidence; they were absurd, says victim
When the initial hearing finally took place, without a consular representative, the defendant was given 144 hours to present evidence. It came with 16 pieces of evidence "that had nothing to do with it," Ale says annoyed.
One of those tests was Facebook photos with Ale and Freddy together, to show that they had a very good relationship. The photos were from before 2014 when her mother filed for divorce after fleeing with the girl from the apartment where they lived because one night he physically violated her. The judge ruled out that this was evidence and also warned her that it was illegal to display photos of a minor, Ale's mother explains.
The other tests no longer had to do with the girl, but with her mother. For example, an agrarian lawsuit that he himself initiated to try to take away part of a piece of land in Tepoztlán, which the judge who handled the divorce decided to divide between the three, a decision that Freddy himself accepted and signed six years ago, but that, They say, he has not respected: he has invaded their property, destroyed part of what they have built on it and threatened to violate them again.
The judge of First Instance, Control, Oral Trial and Execution of Sanctions of Morelos, based in Xochitepec, Ramón Villanueva Uribe, annulled each and every one of these tests. From the photos, he warned the defendant that it was even illegal to display images of a minor, and from the rest, he asked him if he understood that the person accusing him is the girl and not his mother (who has the role of legal representative because the victim is a minor. old).
Ale was not in court that day, because, for the protection of minors, it is enough that he has presented his statements, in addition to the fact that the court is in a remote and unsafe area, his mother describes. But Ale assures that she would not mind going to tell Freddy Potenza's face that it is she — and not her mother — who is reporting him for what he did to her.
However, the inadmissibility of the evidence presented by the accused did not harm the alleged aggressor; on the contrary, the judge considered that this evidence showed that the accused lacked an effective defense. Instead of authorizing the connection to the process for having abused a minor, or at least formulating the accusation as requested by the Public Ministry, Judge Villanueva Uribe decided to annul the trial and return to the starting point.
"In an initial hearing dated November 10, two thousand and twenty, when everything that was acted on was declared void due to issues related to the lack of knowledge of the litigation strategies and techniques on the part of the private defense, the fourteen hours were again set on Wednesday, November 25, two thousand and twenty, so that it has a verifiable initial hearing, "says the last document sent to the Argentine Consulate.
He also annulled a restraining order against the alleged abuser and only withheld his passport to ensure that he does not leave the country; He suggested that if the victim and his mother wanted protection measures, the Prosecutor's Office had to give them to them, but that would imply that they can only be in Tepoztlán, precisely on the rustic terrain where the defendant has previously gone to attack them.
With that decision of the judge, the door was opened to more obstacles to continue the process. On November 25, when the initial hearing would begin again, a person arrived (without having any accreditation as legal representation), showed a prescription without clear information, but with it he alleged that Freddy Potenza could not appear because he probably had COVID-19 , and that, in fact, at the door they had taken his temperature and did not let him enter. Although the police at the entrance denied that this had happened, according to Ale's mother, the judge replied that it was better not to risk it and again suspended the hearing.
The hearing was postponed once again, for a sixth attempt to hold it on January 4. But when 2021 arrived, Morelos returned to a red light due to the pandemic and the courts were closed again.
So now they are worse off than a year ago, without even having a date for the official start of the trial that has been postponed since March 2020.
"Nobody has the right to hurt you", the school slogan that changed Ale's life
When Ale was seven years old, in 2012, he lived with his mother and adoptive father in a cabin in Tepoztlán, Morelos. They also rented an apartment in Mexico City, where the couple went to work some days of the week. Sometimes the mother went alone and the girl was left in his care.
One of those days when Ale's mother had stayed to work in the capital, the girl woke up in the middle of the night feeling something strange. He was not wearing his pajamas or underwear. Not only that; she felt her foster father's body, also naked, clinging to hers, and his hands were touching her.
"When it came to the abuse, I didn't even know what that meant, I was seven years old! I had no dimension that that was something that was wrong. When it happened, I just knew that it was not something that made me feel good, and that it scared me, that is, it was a situation of fear more than anything else, "recalls the now adolescent.
The girl did not move, she pretended to be asleep. Suddenly, the noise of a truck rang out and a light illuminated the cabin, because it had no curtains: it was the neighbor, a friend of the family, who had just arrived. A neighbor who, together with the one who was his girlfriend at that time, are now witnesses in the complaint.
Political Animal was able to contact that witness, who remembers that they always saw that something strange was happening. About that night, her then boyfriend told her that he was puzzled because as soon as he got to the area of ​​the cabins, Freddy came out immediately, in a robe, and very nervous. She thought that maybe he was drugged, because they knew that he sometimes used cocaine, and she was worried that he would do it when he was with the girl.
Although he only went to see his ex on the weekends, he remembers that he immediately clicked with Ale and noticed that she preferred to be all the time in the neighboring cabin, rather than his. To the extent that one day she asked them to sleep with her. The witness commented on it with another person, who sowed her first doubt, whether she was not being sexually abused.
"I do not know, you do not know how difficult it was to have it so head on and not have realized it in time … it gives me a lot of courage," laments the witness.
The girl relates that the abuses were repeated. A year after that, the marriage ended when Freddy's violence came to blows against his wife. Ale remembers that it was she herself who slammed a door in her adoptive father's face that day, and that she began to think that he was not a good person. But it didn't occur to him to talk about what he had done to her earlier. Even after being separated, she still visited him a few times, in which there was also abuse. Until she herself felt that she no longer wanted to see him again.
Everything that had happened took on another meaning when he entered a new school to finish elementary school, Colegio Sócrates, in Mexico City. "It was at school that they started teaching us about sex education. Besides, one of the mottos there was that 'nobody has the right to hurt you'. That school really was super important. Because the directors were psychologists and they were the ones who realized that something was not right with me, my grades went down. Because I started to think: I think this was not good, "he explains.
His mother was warned that Ale had symptoms of bullying or possible sexual abuse, but the most important thing was that she could tell what was affecting her. They explained to Ale that if he had something to say, he could do it with all the confidence and that he did not have to think about how adults would take it, but only about how she felt.
Ale remembers again the school slogan and how they were remarked: "No one has the right to harm you, not even your family, not even your parents." That same day when he returned home, he told his mother everything. The touching, the strange way he treated her, and the damage he had caused her.
According to specialists in child sexual violence, it can take an average of 20 years for a girl or boy to understand what they suffered and to be able to verbalize it. It took her only five and also decided she didn't want to let it go. He accepted the idea of ​​filing a legal complaint, even though he had to retell what happened several times.
She has not had the appropriate psychological support, because when she reported in Mexico City they channeled her to the Center for Therapy to Support Victims of Sexual Crimes (CTA) of the Prosecutor's Office, but they made her leave classes to go to appointments, which It made her feel angry, and then it seemed to her that they weren't listening.
Then his mother could not get him private therapies, because in himself he had to start working twice as hard to pay for lawyers and to be making constant trips to Morelos, which implied spending like a thousand pesos every time he had to go for a document or a hearing.
However, now Ale feels strong and speaks without fear. His greatest therapy has been seeking justice. He speaks with the conviction that ending the silence is a just cause and that he must fight for it. He has read about child sexual violence, he has read that, out of a thousand complaints, only one leads to a conviction. She believes that one of a thousand could be hers.
"I don't feel bad, saying: 'Oh, it's my childhood'… Now I feel good in the sense that talking has strengthened us. And yes, to continue until the end, because from the beginning my mother told me that it was the same and it did not proceed, that it did not reach a trial. But something must be done. And at this point, we know that it will proceed ".
Source: animalpolitico.com